Functionalities
A planning goes through various stages: employee wishes, (possibly) cyclical rosters, design planning and final realization in which you can also monitor the additional hours worked and their recovery, as well as the unexpected absences and the replacements that result.
Various reports will allow you to have a good overview of everything that is happening in your institution and also allow you to count the evening and night hours, the Saturday and Sunday hours and the interrupted hours so that these are fully automatically available to the wage program. can be stated.
See further in:
---
Drawing up a schedule
The wish screen
Here you can design your planning. You can see the entered shift wishes in green. Other colors are available for any comments or indications.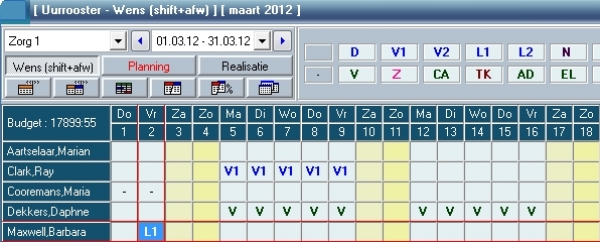 The schedule screen
You can enter the desired shifts and absences in advance. This data is integrated into the planning.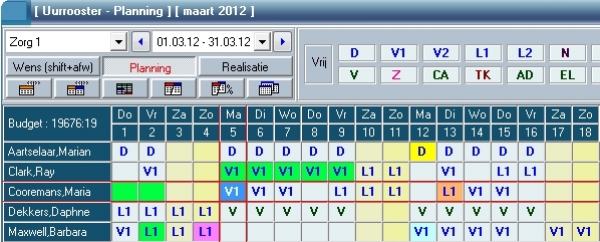 Possibility of cyclical work schedules and automatic planning
If necessary, you can start based on cyclical schedules over several weeks. These can be rolled out in monthly schedules. The automatic scheduling aims to meet your occupancy requirements.

How do you know that your schedule is satisfactory?
PlanExpert contains several control mechanisms so that you can evaluate your planning.
At the level of the occupation requirements.
You can enter your occupancy requirements per qualification and per shift ... and check: unmet requirements in red; in black everything is OK; in blue the many.

At the level of social legislation
The social legislation and the rules inherent to your institution can be checked. You choose the rules you want to have checked. You can request an anomaly list at any time.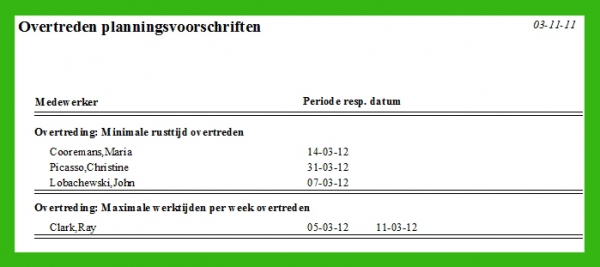 At the level of the hourly balances
On the right side of the screen you will see a number of balance columns that indicate how many hours there were to work in that month (Plannable), how many hours were worked and the difference between the two on a monthly basis and on a continuous basis. Balances are also available for any remaining hours of leave or other absences.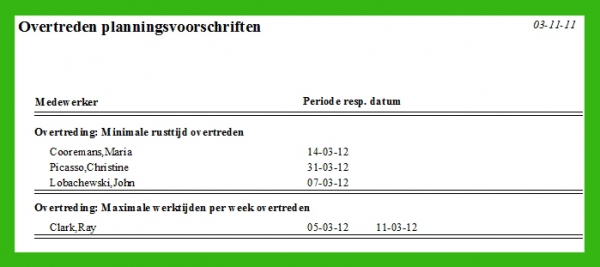 Realize planning
Planning and reality
Of course a schedule is interrupted by unexpected overtime, shift changes or absences.
The user can enter this on a copy of his planning. In this way the original planning remains intact. In the screen below you will see three lines per employee.
The first shows the schedule
The second shows what really happened
On the third line you can see the differences in hours between planning and realization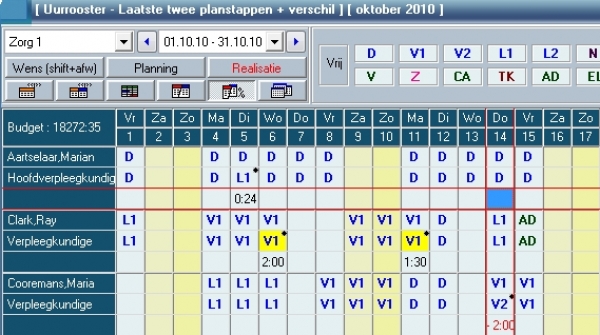 Time clocks & badge readers & finger scan ... or not
It is quite possible to use PlanExpert without time clocks or time registration; it is then sufficient to enter any exceptions in the user-friendly screens intended for this purpose. So you can work on the basis of "management by exception". The approved exceptions (for example an early one that lasted an hour and a half longer) can then be entered immediately in the realization screen (with or without a comment at the bottom). Those comments can be displayed on reports if you wish.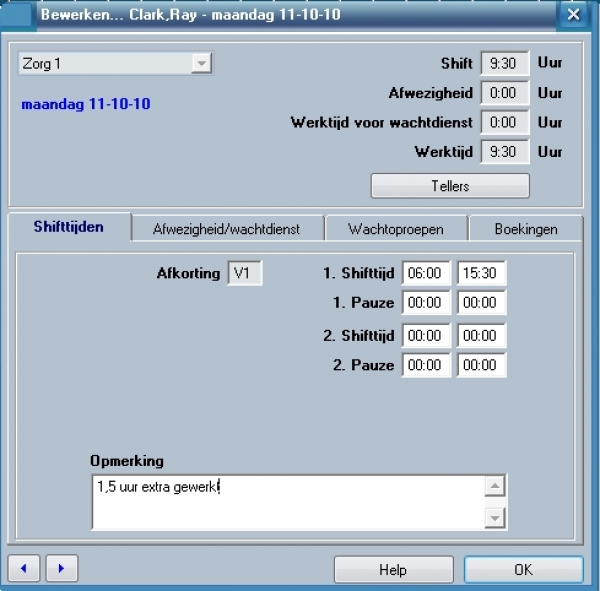 If, on the other hand, you want to check whether or not your employees arrived late or left too early, real-time registration is possible. After all, it is easy to link badge readers to PlanExpert . In PlanExpert you can set the rules according to which these bookings will be assessed. For example, rounding may be applied to a person who arrived 10 minutes early or left 10 minutes late. However, if the employee would have left much too late (perhaps with a reason), the additional hours worked can be authorized. These hours are then incorporated into the realization of the planning.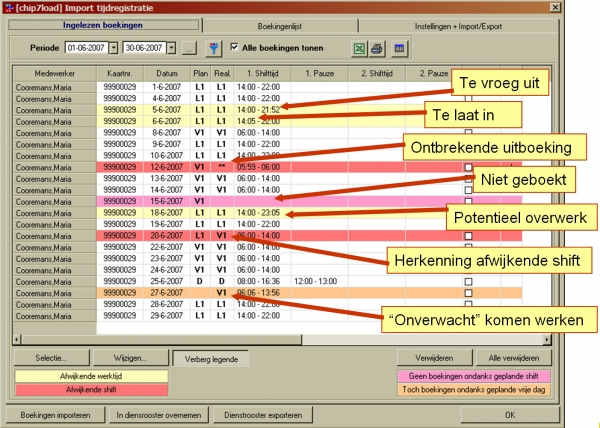 Results and wage linkage
Reports
In addition to a large number of ready-to-use reports, PlanExpert also provides two report generators with which you can easily create new reports yourself. These reports can be exported to Excel with a simple mouse click. These reports represent a great added value compared to manual planning: the balances of hours worked, leave, sickness and other absences no longer have to be manually tracked and added.
Wage link
PlanExpert calculates your night hours and your Saturday and Sunday hours and can easily be linked to your payroll processing program or social secretariat so that most allowance hours for the wage payment can be automatically forwarded to this. In practice, it comes down to linking your own performance and absence codes (once) to the wage codes of your wage program according to the codification imposed by your social secretariat.
Some examples :
Report with the difference between the planning and the realization for each staff member
There is also space for any comments.

Individual report with the number of hours per type
These data can be automatically made available to your salary program. /p>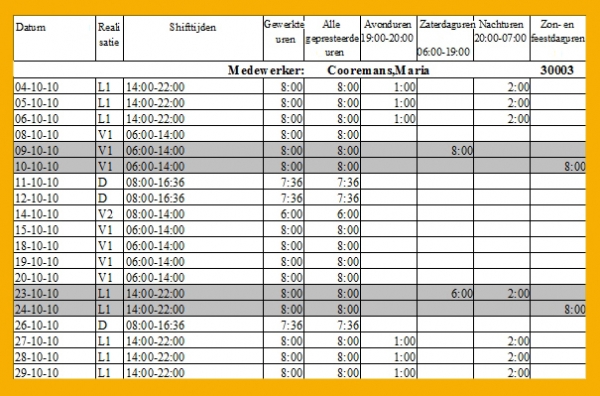 This report can also be requested for a group of persons and for a specified period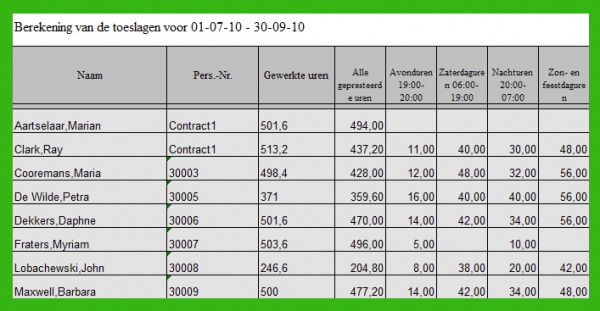 Follow-up of illnesses and leave for a specified period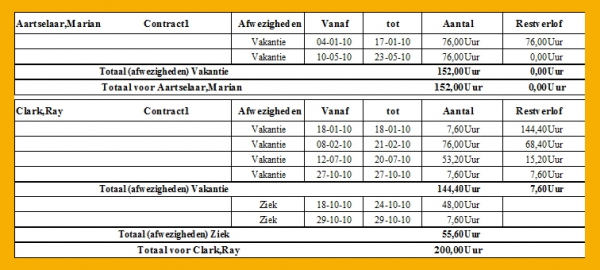 The same as the previous if we are only interested in the numbers and not the exact dates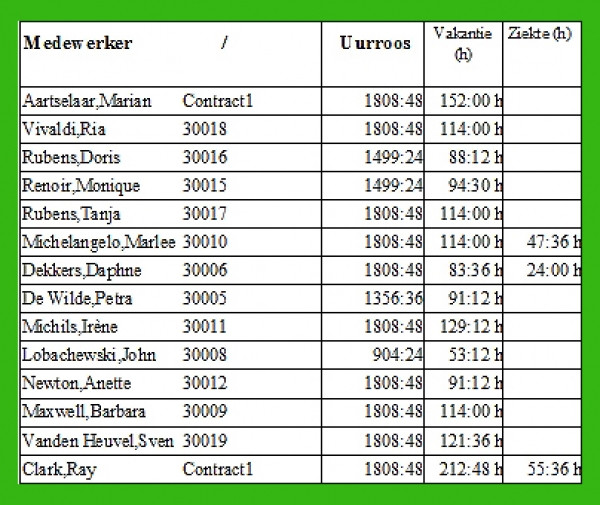 Report with the number of early and late per person performed during the year or during a specified period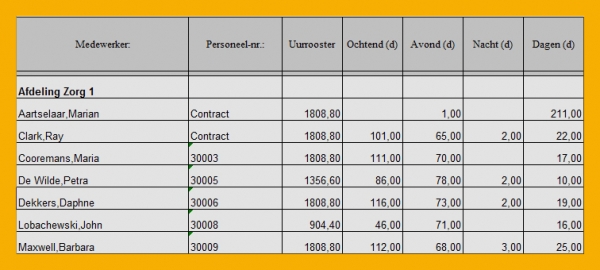 Birthdays report
This can also be sorted by age so you can easily see when who is turning 45, 50 or 55.